Everything you need to know about IELTS
UKEAS would love to help our future students to be able to get a deeper understanding on one of the main requirements in studying abroad! In this blog, we will be discussing the most important information you need to know about IELTS.
To be able to understand IELTS more, we first need to define its terminology and its functions.
IELTS or the International English Language Testing system, is designed to assess the language ability of those who want to study and work where English is the first language of communication.
As students who are certain in studying in the UK or abroad, IELTS is a requirement by universities. In some cases, IELTS is also needed for visa application for student and working visa requirements.
Here are some questions frequently asked by students who will need to take the IELTS exam:
When can I take the IELTS?
IELTS is offered up to four times a month. Tests are held on Saturdays and Thursdays.
What is the passing score for the IELTS?
There is no such thing as a pass or fail in IELTS. Results are reported as band scores on a scale from 1 (lowest) to 9 (highest) but please be mindful of the entry requirement that the university or the workplace requires as you need to target that score for the IELTS.
Why are there two versions of the test?
IELTS has two versions – Academic and General Training. The Academic test is for those who want to study at a tertiary level in an English-speaking country. The General Training test is for those who want to do work experience or training programs, secondary school or migrate to an English-speaking country. All candidates take the same Listening and Speaking tests but different Reading and Writing tests.'
How will the IELTS test my skills in English?
A candidate will be tested in four language skills- listening, reading, writing and speaking.
How long will the IELTS test take?
The total test time is 2 hours and 45 minutes. The Listening, Reading and Writing tests are done in one sitting. The Speaking test may be on the same day or up to seven days before or after the other tests.'
Is the IELTS test completed in one day?
The Listening, Reading and Writing components of the test are always completed immediately after each other and with no break. Depending on the test centre, the Speaking test may be taken up to 7 days either before or after the test date.
When will my result be available?
Results are available 13 calendar calendar days after the test. Test takers may collect their results on the 13th day, results may also be mailed. Also, results may be viewed online as well.
How long is the validity of my IELTS result?
Organizations will not usually accept a result that is more than two years old. Also, the IELTS test partners cannot confirm the validity of test results that are more than two years old.
A basic IELTS Guide for studying in the UK: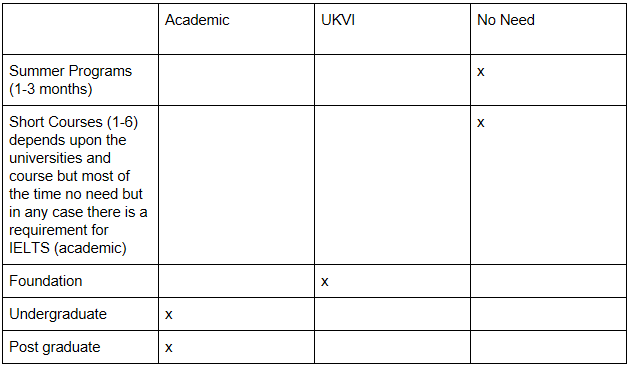 UKEAS as partners with the British Council would love to help you with all your IELTS Inquiry. Call us today at +63 (2) 940 9525 and let us help you accomplish your requirements one step at a time!
Disclaimer: Most parts of the FAQs are from the Information for Candidates Introducing IELTS to test takers brochure given by the British Council Philippines.